It's Easter time, so I'm reposting a popular recipe for bun & cheese and the story that goes along with it. Visit this page if you're looking for a Jamaican Easter Bun recipe. We have two - with and without yeast. Enjoy your Jamaican bun & cheese!
~ ~ ~ ~ ~ ~ ~ ~
The Story of the Jamaica Easter Tradition From The Hot Cross Buns
Yum, let's all have a hot cross bun. Jamaicans probably remember the universal ditty associated with the delicious treats—
"Hot cross buns, hot cross buns
One a penny, two a penny
Hot cross buns;
If you have no daughters, give them to your sons.
One a penny, two a penny, hot cross buns."
Sung quite a bit at Easter time, the song reminds many of childhood delights, but most people probably don't realize that hot cross buns pre-date the Jamaican Easter-season bun & cheese and led to their popularity. Sometimes called Easter buns, they are a BIG part of Jamaican culture, just like several other representative foods such as saltfish or ackee. The concept dates back to ancient Babylon, when cross buns were offered to Ishtar, the pagan queen of heaven. Ancient Greeks made similar cakes to honor the moon.
The tradition found its way to England, where cross buns were eaten on Good Friday, with the cross symbolizing the crucifixion of Jesus. When the British captured Jamaica, of course they brought the custom to the island. Over time though, the English version of the cross bun transitioned to the Jamaican version of bun & cheese, with some key differences.

Jamaica's version is made with molasses, while the buns from England were made with honey. During Easter season in Jamaica, you eat the bun with cheese, a combination that has become ingrained in island culture. British custom has waned when it comes to eating hot cross buns as fasting food on Good Friday, but in Jamaica the practice is as prevalent as ever. Today the custom is seen as more Jamaican than British. And eating cheese is now a year-round practice, while the bun and cheese dish is prevalent primarily during the Easter holiday. (Source: Jamaicans.com)
~ ~ ~ ~ ~ ~
Bun is a baked product made with lots of spices such as nutmeg and cinnamon along with large amounts of mixed fruits (raisins, cherries, pineapple). The second part of the combo, is the cheese, any type will do, i.e. cheddar, mozzarella, white, but to have that true Jamaican Easter bun experience you need to use Tastee processed cheddar cheese (the one that comes in the tin)!


Cut two slices of bun and pop a slice of cheese in the middle and start munching! Great with milk.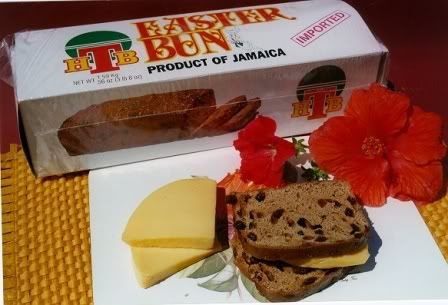 From Enter Jamaica: A Jamaican Easter.
~ ~ ~ ~ ~ ~
Jamaican Easter Bun Recipe
1/2 bottle stout (optional)
3 cups flour
3 teaspoons baking powder
3/4 cup brown sugar
1/4 teaspoon salt
2 eggs beaten
1/2 tablespoon browning
1 tablespoon molasses
1/2 pint milk
2 tablespoons melted butter
1/2 cup raisins – soaked in water or liquor
1/2 cup mixed peel
1 teaspoon nutmeg
1 teaspoon cinnamon
1 tablespoon allspice or mixed spice
1 tablespoon cherries
1/2 tablespoon allspice
GLAZE:
1 cup sugar
1/2 cup water
Preheat oven to 200 degrees Fahrenheit. Warm the stout on low flame. Add browning, sugar, molasses and butter. Stir until dissolved. Sift together flour, baking powder and spices. Add chopped fruits - ensure raisins are drained - to the mixture. Add wet ingredients to flour mixture. Bake in a greased loaf pan for 1 to 1 ¼ hours. Remove from oven when ready, and allow to cool. Glaze with sugar water. Honey and melted butter can also be used.
Recipe courtesy of: Nyam Jamaica & Trevor Ferguson, Owner, Golden Bakeries
Even if you can't enjoy a Jamaican Easter, you can still try bun and cheese and pretend you're there!!
Source: South Florida Caribbean News.